Friday, August 18th, 2017
7:30pm – 10:00pm
Oakstop – 1721 Broadway
Join local women's BDSM & Leather organization, The Exiles, for an after hours workshop and demonstration on rope bondage. Event is 18+, open to all genders. Free to conference attendees, $5 for non-conference pass holders who are members of The Exiles, $10 for non-conference attendees who are not members of The Exiles. Tickets here.

The Exiles are offering this workshop as part of the BUTCH Voices National Conference.  The program is open to all conference attendees as well as members of the Exiles, and the general public.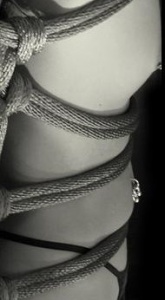 And if butches weren't enough to get you to this event, they'll have a hands-on workshop on Sadistic Rope Play. Worried about having to produce complex ties and intricate suspensions in the dungeon? Get back to your sadomasochistic roots with this Sadistic Rope lab. The hot and talented Shadow will show you a few sexy and surprising ways to heighten the tension in your play using bondage.
The class will be formatted as a demo and discussion with practice time. No previous rope experience is needed. If you can, please bring your rope, your kinky bondage conversations, and your curiosity. Ideally, bring two 25-30 ft. lengths of rope; brownie points if you bring coconut rope. There will be some practice rope provided.
BUTCH Voices conference attendees attend this program for FREE as part of your 4-day or 1-day Friday conference pass! Just show your conference badge at the door.

(Note: Because they are inviting all BUTCH Voices attendees to this program, the space is open for folks of all genders. While this is outside The Exiles' normal gender policy, they are making this event inclusive to support the BUTCH Voices conference and our attendees.)
About the presenter:
Shadow saw some really hot bondage pictures online several years ago, picked up some Greenery Press books and Home Depot rope, and never looked back. She was an original co-host for Hitchin' Bitches Bay Area for three years (although no longer affiliated with them), has tied at the Exiles booth at Leather Alley during SF Pride, and proselytizes in the good name of coconut rope to all of her kinky friends.
Program Info
All BUTCH Voices attendees of any gender are welcome. For non-attendees, all women (and those whose gender self-identification is other than male) who are over 18 are welcome.
ASL interpretation available on request. Please contact the co-coordinators at cocos (at) theexiles (dot) org at least a week in advance if you need an ASL interpreter, and one will be provided.
BUTCH Voices attendees can get in for FREE by showing their conference badge.
Members $5; non-members $10. Please have membership card or ID ready to speed entry.
The program runs from 8:00 to about 10:15pm. with socializing at 7:30.
The Exiles is an inclusive and sex positive space for all people whose gender self-identification is other than male, regardless of level of experience. All such people are welcome, and racism, transphobia, classism, ageism, size discrimination, and other forms of discrimination have no place here.
Accessibility info for Oakstop.
Date:

August 18, 2017

Time:

7:30 pm